The Colorado Avalanche have played exactly half of their regular season games of the 2011-2012 season. After 41, the Avs are 22-18-1 with a total of 45 points. They are tied for the 8th and final playoff spot in the West (although LA currently holds the tiebreaker as they've played 1 fewer game). How has the first half of the season been? Overall, not bad. The season opened with a disappointing loss to the rival Detroit Red Wings on Peter Forsberg night, but then the Avs proceeded to go on a tear on the road, sweeping a 5-game road trip and winning 6 of their first 7 road games overall. Unfortunately during this period, the Avs could not win at home. In fact, they did not pick up their first home win until October 30th against the Kings. They won only 4 times in their first 13 home games. However, after that, they won a franchise record 8 consecutive home games in a row. However, during that time, they dropped 8 consecutive on the road. Needless to say, this young Avalanche club has been a streaky one. They enter 2012 and the 2nd half of their season on a pretty good roll though. They've won 9 of the last 11, which included wins on both home and road ice. While long road/home winning streaks are certainly nice, the Avs will never be much better than a .500 team if they are losing the other games. Winning with consistency at home AND on the road is the key to this team staying in playoff contention.
In November, when the Avs were struggling mightily, Avs Nation was vehemently calling for #firesacco. In fact, the Blues, Ducks, Hurricanes, Canadiens, Kings, and Capitals have all replaced their coaches so far this season. That's exactly 1/5 of the NHL coaches who started the season and who are now no longer with that club. However, Joe Sacco managed to weather the storm and since the Avs have been on a 9-2 run, the rumblings for his job have died down. As this is the final year of his current contract, his long-term future with the team is certainly not guaranteed, but unless the Avs take a nosedive during the 2nd half of the season like last year, Sacco will most likely finish the year behind the Avs bench. Despite the Avs success of late, I disagree with some of the recent coaching decisions made by Sacco. First and foremost, during the Avs' 8-game home winning streak, he kept the same lineup game in and game out, to almost a superstitious point. Kyle Quincey, the Avs leading scorer amongst defensemen was injured during 2 games, but kept out of the lineup as a healthy scratch because Sacco didn't want to disrupt the winning lineup. Matt Hunwick, Quincey's replacement, wasn't terrible, but he only has 1 assist, and is minus-1 in 10 games this season. Hardly a reason to keep him rolling. He also started Jean-Sebastien Giguere for 5 consecutive games. Now don't get me wrong, Jiggy was playing great hockey, but he's your #2 goalie and hasn't started more than 26 games in each of the last 3 seasons. In the 5th game, Jiggy looked tired in the 4-1 loss to the Jets. I think it's important to keep Varly rolling to keep the young goalie's confidence up.
Over the first half of the season, I think it's apparent that the Avs' goaltending is much-improved. The speculation in late June was that the Avs were going to sign veteran all-star Tomas Vokoun to be their short-term #1. Instead, the Avs made a bold trade with Washington to acquire the promising but unproven Semyon Varlamov and signed veteran and former Conn Smythe and Stanley Cup winner, Jean-Sebastien Giguere to be the team's backup. Aside from perhaps former Av, Brian Elliott, Giguere has had the best season of any backup in the NHL, playing his best hockey since his Anaheim days. By the way, very classy of the Ducks organization and fans to pay him tribute the other night in his first game back at Honda Center. I bet we'll see his #35 hanging in the rafters there when he calls it a career. When he signed here, he knew that his role would be a different one than he's ever had in his career before. In Anaheim and Toronto, he was supposed to be the starter, but here, one of his primary purposes is to mentor Semyon Varlamov. Jiggy actually does have a history of being a mentor to younger goalies with Bryzgalov and Hiller in Anaheim and Gustavsson and Reimer in Toronto. Varly, although his numbers have not been as consistent as Giguere's, has also been good. He's certainly shown flashes of brilliance and potential which is why I'm sure Greg Sherman and Joe Sakic made the trade for him. Monday's 2-1 shootout win in LA was probably his best Avalanche performance to date. At only 23-years-old, Varlamov has all the raw talent needed, he just needs to get the confidence and consistency to be a long-term #1 NHL goalie. Varlamov is a very quick goalie, perhaps the quickest one the Avs have ever had. He can move laterally like lightning and is capable of making the unreal, highlight saves. He robbed a sure goal from the Kings' Jack Johnson the other night. Varly has also been unstoppable in the shootouts, going 6-0 and stopping 19 of 21 shooters. Ironically, during his post-game interview, he said he doesn't like shootouts. I'm guessing the shooters he's faced this season, like them even less! J-S Giguere has a much different style than Varlamov. Although they're both about the same size, Jiggy relies a lot less on reflexes and quickness and much more on good, solid positioning. Giguere has always played a positional style, but it's even more pronounced now that he's in his mid 30s and doesn't have the quickness he did 10 years ago. I hope that Giguere and goaltending consultant Kirk McLean help Varlamov to become more of a solid positional goalie as this will certainly help him in the long-term in addition to his assets of quickness and flexibility.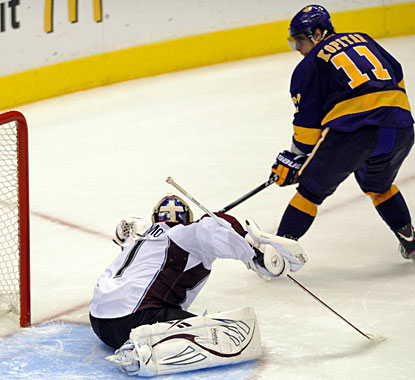 The Avs' MVP to this point has unquestionably been Ryan O'Reilly. "Factor" impressively made the team right out of the 2009 draft and was a very good defensive center his first 2 seasons. This season however, his offensive game has really blossomed and he has become one of the top two-way centers in the game. With Matt Duchene out with a knee injury, O'Reilly certainly should be selected to represent the Avs in Ottawa for the All-Star Game. In half a season, he has already eclipsed his career high in points, and has been valuable on the penalty kill and power play. He has also scored some big, clutch goals including the Avs' lone regulation goal late in the 3rd to send the game to overtime the other night. If Factor keeps it up, not only should he be an all-star, he should get some serious consideration for the Selke Trophy, awarded to the league's best two-way forward. Currently, O'Reilly has 55 takeaways, which is 1 more than 3-time Selke winner Pavel Datsyuk. Here's a very good article on O'Reilly from today's Denver Post by Mike Chambers.
http://www.denverpost.com/avalanche/ci_19677503
While O'Reilly may be the Avs best player to this point, fellow 3rd year player, Matt Duchene is the most talented. Unfortunately, Duchene is currently on IR with a knee injury and is out until at least late January. Duchene's talent has never been a question. His puck control is reminiscent of Peter Forsberg, his speed with the puck is uncanny, and he can score big, highlight reel goals. He had the big OT winner against Tampa Bay, and his goal against all-star goalie Marc-Andre Fleury is hands down one of the best of the year.
http://www.youtube.com/watch?v=aVTMYEElGpI
Aside from his talent that made him a #3 overall pick, Duchene's greatest strength is also his greatest weakness. He is a very emotional player and person, which can be both a blessing and a curse. When things are going well, Duchene can feed off of the emotion to propel him to further success, but when the team is losing or when he's not producing on the scoresheet, he can get down on himself. Joe Sakic was the best I've ever seen at remaining even keel through both good times and bad. Current captain Milan Hejduk is of the same mold as well. The fact that Duchene is not doesn't make him a bad player or a bad person, it's just the way he is. Guys like Patrick Roy, Peter Forsberg, and Adam Foote were emotional players and that didn't hamper their success. However, this time on IR away from hockey and the team will certainly be a trying one for the youngster, but I have no doubt he'll be able to have great success this season when he returns.
The most maligned players this season have been Paul Stastny and Erik Johnson. While neither player has achieved the all-star caliber success expected of them, neither player has been particularly bad. People have called for them to be traded or benched and I think either of those cases would be a bit drastic. First off, you don't want to trade a player when they're under performing. You want to trade a player when he's at the top of his game so that you can get the most in return. Stastny has been selected to 2 all-star games and has been a near point-per-game player throughout his career. Certainly he can turn things around and play the game that earned him the 2 all-star nods and the assistant captain's "A" he wears on a nightly basis. EJ is still only 23. Give him time to develop into a full-fledged NHL defenseman. If he hasn't progressed in a year or two from now, then maybe it's time to put the future of the Avs' defense elsewhere, but for now, EJ is the guy.
Gabriel Landeskog has been everything the Avs could have hoped for from their #2 overall pick. Like O'Reilly, this kid does it all. He's on the PP, PK, and is obviously very strong at both ends of the ice. He leads the team in shots and hits and is only going to get bigger, stronger, and more confident. #92 is the real deal.
Certainly a lot can happen over the next 41 games and the Avs resiliency will be further tested as long as Matt Duchene is out of the lineup, but this young team has talent, character, and emerging stars and leaders that should propel the Avs into playoff contention and hopefully further! Here's to a good 2nd half and a great 2012! #GOAVSGO