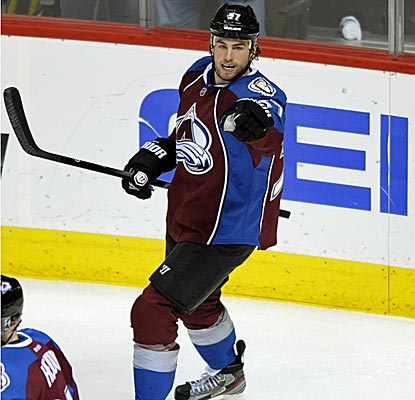 After a long, frustrating, and arduous lockout, Colorado Avalanche fans are finding themselves victim of another maddening dispute. This time however, it is between the Colorado Avalanche and their popular center Ryan O'Reilly.
Now, while the official party line is that talks remain ongoing between Colorado Avalanche General Manager Greg Sherman and O'Reilly's agent, Mark Guy, the fact remains that an already shortened season has begun, and the Avs are without their leading scorer from a year ago.
Much like the lockout itself, both sides have legitimate claims. Over the course of his short three year NHL career, O'Reilly has certainly proven his value. From the get-go, he established himself as a reliable two-way center who was very responsible in his own end as well as in the face off circle. Last year, he saw his offensive abilities blossom as he nearly equaled the output from his rookie and sophomore years combined.
Greg Sherman and the Avs front office however, still have a business to run. The Avs are still a very young team with budding talents and emerging superstars. If they comply with the O'Reilly camp's demands and overpay the young center, it may be setting a dangerous precedent when the contracts of key players like Gabriel Landeskog, Matt Duchene, and Semyon Varlamov expire in two years. The Avs are well under the salary cap now, but if they shell out big bucks for all of their young, talented players, they may not be able to afford to keep them all down the line. A hockey guy and a team guy, O'Reilly should understand that.
There have been reports as to what the Avs have offered and what O'Reilly has reportedly turned down. Yes, the numbers are important for the team and O'Reilly now and of course in the long term, but much like the lockout, we fans don't care. The CBA is certainly a necessary evil, but it was completely unnecessary that we had to wait until January to watch our first NHL games of the season.
Signing O'Reilly to a contract that is fair for both him and team is important, but all we fans care about is that he is in the lineup, representing the Burgundy and Blue and helping this young team win games in a very competitive Northwest Division.
The longer this drags out, the worse it will be for both the Avalanche and Ryan O'Reilly. Owner Stan Kroenke has developed the reputation as an owner who won't spend money to help improve his teams and Greg "from Accounting" Sherman has been labeled as a numbers guy, not a hockey guy. This certainly isn't helping to cure those rumors. We've been told for years now that no one loves the game of hockey more than O'Reilly. The team's biggest "rink rat," always the first to arrive and the last to leave. Well Ryan, prove to us that you do love the game and that nothing means more to you than playing hockey at the highest level possible Not some second-rate league like the KHL, the National Hockey League.
We were cheated out of 34 regular season games this year because of people's greed, arrogance, and stubbornness and now we are being cheated out of watching a young, talented, valuable player help the team who turned him into a bona fide NHL center as he wastes away in the KHL.
Bettman, Fehr
I mean Sherman, Guy, get a deal done!