Since the Avs' acquisition of goalies Semyon Varlamov and Jean-Sebastien Giguere, a question that's been on my mind has been what their new Avalanche masks will look like?! Ever since Patrick Roy was traded to the Avs in late 1995 and went from the generic white mask during his Avs debut to his trademark Avalanche mask (below), I have been intrigued by goalies' choice of design for their respective teams.
Of course, my favorite NHL mask of all-time is Roy's second and final Avalanche mask, which was debuted in the 2000-2001 season (when they won their second Cup) and it's also the mask I've worn myself since 2002. BTW, they do not sell masks that cool anymore. Wholesalers and retailers need to step it up!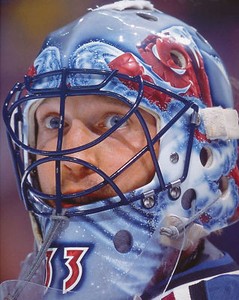 Varly and Giggy have both had cool masks in the past with the Caps, Ducks, and Leafs respectively, so I'm interested to see what they'll do with the Avs' design and colors.
Other masks around the NHL that I've liked a lot are Kari Lehtonen's Joker mask while he was with the late Atlanta Thrashers and his maks from Dallas last year featuring the movie Tombstone.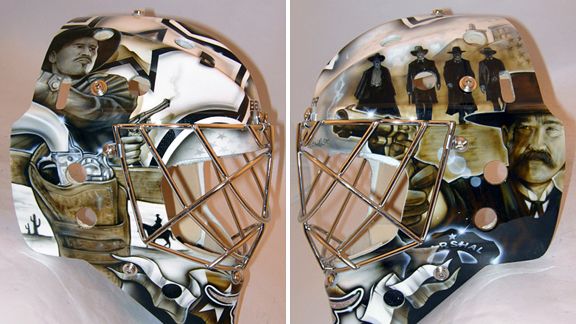 I'm a sucker for comic book-themed masks such as former New York Rangers goalie Steve Valiquette's Spider-Man mask and former Avalanche goalie Peter Budaj's Red Hulk mask. Boods went with the Red Hulk to match the Avs' colors better. His response when asked about it was, "You don't see us wearing green, do you?" Let's hope he carries his trademark Ned Flanders over to Montreal.
Speaking more of Avalanche masks, I also like Jose Theodore's and David Aebischer's. Brian Elliott's was pretty blah except the Casey Jones was cool.
The worst mask in the NHL belongs hands down to Chris Osgood. I mean, what is that? It's like he forgot his real goalie mask and just borrowed someone's helmet and threw a facemask on there. Lame!